Tack TMI named on Training Industry's 2022 Top Leadership Training Companies Watch List
Tack TMI, 7th March 2022
We are delighted to announce that Tack TMI has been named on Training Industry's Top Leadership Training Companies Watch List which highlights the top global companies for Leadership Training to look out for in 2022.
Renowned within the L&D sector, US-based Training Industry is the leading research and information resource for corporate learning leaders. Each year it prepares a report on critical sectors of the corporate training marketplace. This includes its prestigious Top 20 List and the Watch List. Both are designed to better inform professionals about the best and most innovative providers of training services and technologies – so we are truly honoured and excited to feature.
Commenting on the accolade, which was announced this week, Tack TMI CEO Jim O'Brien said: "It's a privilege to be added to the Training Industry's Watch List 2022 for Leadership Training, in addition to our inclusion on their list for Sales Training & Enablement earlier this year. We know that to be recognised as a provider with unique strengths and capabilities in one category alone is a great achievement, but to be in multiple learning specialisms is a testament to the resurgence of the Tack TMI brand."
"Now, more than ever, leaders and good leadership are imperative – in business and the world more generally. Our robust library of classic, research-based leadership know-how, has been intentionally strengthened to tackle the changing world facing leaders of today. We continue to pioneer the same thought leadership demonstrated by Claus Moller and the Tack brothers when they founded TMI and Tack many years ago."
"Leveraging our 110 years' of history and know-how, our world-class solutions (including leadership) can be delivered with complete flexibility and mass customisation. We deliver 'just in time' learning, using bite-sized learning pills or comprehensive learning journeys, to equip Leaders at their point of need. Complete with mastery and coaching components to ensure maximum impact on individual and organisational performance."
"Thanks to our many clients for entrusting us to help them grow, develop and harness the leadership talent of today and of the future."
Selection to the 2022 Training Industry Top Leadership Training Companies Watch List was based on the following criteria: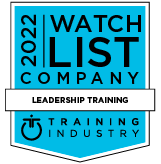 Breadth and quality of programme and service offerings
Industry visibility, innovation and impact in the leadership training market
Client and customer representation
Business performance and growth
Director of Corporate Research at Training Industry, Tom Whelan said: "The 2022 Leadership Training Watch List represents emerging and specialised leadership development companies that are motivated to help develop leaders for all roles within an organisation. Using new innovations like simulation experiences, assessments and other digital content, they strive to create unique experiences for all leaders."
This award follows receiving the 2022 Training Industry Top Sales Training & Enablement Companies Watch List accolade last month, as well as the recent acquisition of The Leadership Factory which has strengthened Tack TMI's leadership offering even further, from Leadership Accelerators to Women in Leadership programmes, all helping to grow successful, more diverse populations of leaders.
For more information about Tack TMI's award-winning approach to leadership training, please get in touch.